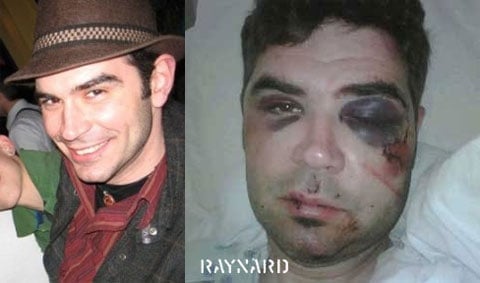 The Ontario, Canada city of Thunder Bay is rallying behind Jake Raynard and his family. Raynard was the victim of a brutal beating by a gang of men early Saturday and he sustained 15 cheekbone fractures, and a broken jaw, eye socket, and upper palate. The attack followed taunting by the gang over the victim's sexual orientation outside a bar.
NetNewsLedger reports: "A group has formed on Facebook offering support and communicating the
messages of support for the injured man, who underwent reconstructive
surgury on the weekend following the attack early Saturday morning. The
Facebook group has been growing at about 30 people per hour…A rally is taking place Friday at 6 PM in Waverly Park. All people who
support Jake and believe that this action has no place in our community
are asked to attend. More details will be solidified in an announcement
tomorrow…A Fund has been established for Jake. This fund will be dedicated to
permit Jake access to legal consultation, rehabilitation treatments,
and some basic income while unable to work. Again more details will be
available tomorrow."
The police have not released any information or statements regarding the attack.