Another gay bashing in Ontario, Canada, this one in the city of London, happened less than a week after Jake Raynard was beaten by a gang in Thunder Bay.
Xtra reports: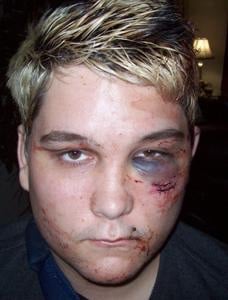 "Brandon Wright, an event manager and modelling agent, says a man who
called himself Alex approached him online via instant messenger. The
man told Wright he was an aspiring model looking for work. Wright
arranged to meet Alex near a variety store on Kipps Ln near Adelaide St
in London. After meeting, Wright told the man that he wouldn't be able to help him find a modelling job.  'He just didn't have the looks for it,' says Wright.  The man then told Wright that he wanted to show him something in his
truck. When Wright climbed into the passenger side he says the man
said, 'Because you're gay you need to be punished. I'm going to fucking
kill you and you're a faggot.' The man then drove off with Wright still in the passenger seat. 'He started hitting me with a big, black, heavy object,' says Wright. 'He kept repeating, 'I'm going to fucking kill you faggot.'' Wright says the attack continued even while the man was driving. Wright jumped out of the moving truck to escape."
Wright says he was helped by bystanders. Police say they have a lead on the subject, who reportedly said he was from Thunder Bay.