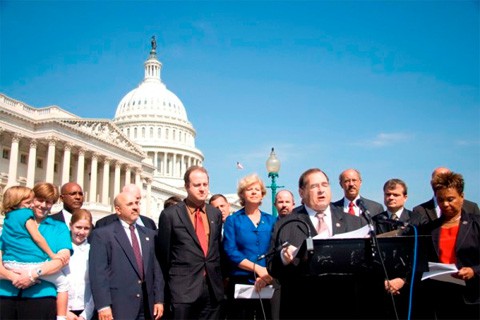 (image via HRC)
UPDATED
U.S. Reps. Jerrold Nadler (D-NY), Tammy Baldwin (D-Wis.) Jared Polis (D-CO), along with John Lewis (D-GA) and Nydia Velazquez (D-NY) today introduced the 'Respect for Marriage Act', a measure that would repeal the 'Defense of Marriage Act' (DOMA). I'll be posting more details on the press conference as updates to this post as they come in.
Video clips, AFTER THE JUMP…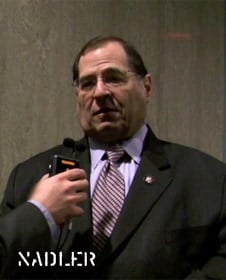 According to the Human Rights Campaign, the Respect for Marriage Act "would restore the rights of all lawfully married couples — includingsame-sex couples — to receive the benefits of marriage under federallaw. The bill also provides same-sex couples with certainty thatfederal benefits and protections would flow from a valid marriagecelebrated in a state where such marriages are legal, even if a couplemoves or travels to another state…rights likeSocial Security survivors' benefits, medical leave to care for anailing spouse and equal treatment under U.S. immigration laws."
The bill has 91 co-sponsors (list here).
Bill Clinton, who signed DOMA into law in 1996, thanked the bill's  sponsors in a statement read by Nadler, The Advocate's Kerry Eleveld reports. Said Clinton in the statement: "Throughout my life I have opposed discrimination of any kind. When the Defense of Marriage Act was passed,gay couples could not marry anywhere in the United States or the worldfor that matter. Thirteen years later, the fabric of our country haschanged, and so should this policy."
Lambda Legal called for the bill's swift passage. Said Executive Director Kevin Cathcart: "When DOMA passed in 1996 it was a gratuitous slap in the face. But now, 13 years later, there are thousands of married same-sex couples who are hurt by this law. We've come a long way in 13 years and the federal government shouldn't be in the business of deciding that some married couples are worthy of federal respect and others are not. Married same-sex couples pay federal taxes just like everyone else and have a right to the same respect, important benefits and protections as everyone else."
Said National Gay & Lesbian Task Force executive director Rea Carey: "We thank Reps. Nadler, Baldwin, Polis, Lewis and Velazquez forintroducing this bill to dismantle one of the most discriminatory andfar-reaching laws to emerge against our community: the so-called'Defense of Marriage Act.' … DOMA is and has always been an immoral attack on same-sex couples,our families and our fundamental humanity. This hateful law has onlyserved to discriminate against people and belittle our country'sheralded values of freedom, fairness and justice. It is long past timeto repeal DOMA, which has left a moral scar on this country. Todaymarks an important step toward closing an ugly chapter in our nation'shistory, and for working to ensure same-sex couples and our familiesare treated fairly. Too many families have been hurt for far too longbecause of DOMA."
Rep. Barney Frank, the third openly gay member of Congress, said last week he was not putting his support behind the bill because he doesn't feel it has the votes to pass in the near term, suggesting that lawsuits currently underway challenging DOMA have a better chance of getting the law overturned.
Nadler was unfazed by Frank's assertions: "Mr.Frank knows better than anyone that our opponents will falsely claimthat any DOMA repeal bill 'exports marriage' in an effort to generatefear and misunderstanding. But the dishonest tactics of our opponentsshould not stop us from aggressively pushing to end this horrificdiscrimination now. Our bill does not tellany state who it must marry or what marriage it must recognize understate law.
Videos of David Wilson, a member of HRC's Board of Directors and a plaintiff in the Goodridge case, HRC President Joe Solmonese, Dawn BarbouRoske and Jen BarbouRoske, and Congressman Jared Polis, AFTER THE JUMP…