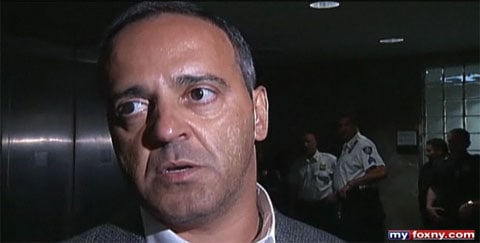 Daniel Rodriguez, Sr., a former corrections officer and the father of one of the suspects in the savage anti-gay beating last Friday of 49-year-old Jack Price in Queens, spoke to Fox news, begging for mercy for his son:
"I caused him the harm. The minute I stopped being a father to my son, I hurt him. And for those who have already judged my son, I say, show mercy…I'm sorry. I want to say sorry to Mr. Price and his family. [My son] doesn't hate. We didn't bring him up that way. To hate others, you know?"
Watch, AFTER THE JUMP…
The younger Rodriguez and the other attack Daniel Aleman face 15 years if convicted of assault as a hate crime.
Previously…
Anti-Gay NYC 'Beatdown' Wasn't a Hate Crime, Says Friend with Leviticus Tattoo [tr]
Daniel Rodriguez, Second Suspect in NYC Gay Bashing, Brought In [tr]
Watch: Brutal NYC Gay Bashing Captured on Video [tr]
NYC Gay Man in Coma After Savage Beating; 1 Suspect at Large [tr]