Anti-gay right-wing conservatives continue their assault on U.S. Department of Education's director of the Office of Safe
and Drug-Free
Schools Kevin Jennings. Media Matters summarized the attacks at the end of last week: "The attacks on Jennings, the latest Obama
administration official in the right's crosshairs, have been disgusting,
misleading, baseless,
and at times pointedly anti-gay."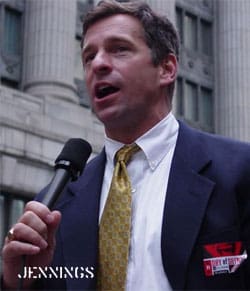 In their latest ridiculous tactic, WingNutDaily has targeted Jennings for some complimentary remarks he once made about early gay rights activist Harry Hay, who started the Mattachine Society, one of the nation's earliest gay rights organizations. Hay also apparently advocated for NAMBLA, and you can see where that's going — straight to Sean Hannity's ears and out his mouth, most likely.
Meanwhile student at the center of the Jennings controversy, a proven 16-year-old at the time, released a statement to Media Matters:
Since I was of legal consent at the time, the fifteen-minute
conversation I had with Mr. Jennings twenty-one years ago is of
nobody's concern but his and mine. However, since the Republican noise
machine is so concerned about my "well-being" and that of America's
students, they'll be relieved to know that I was not "inducted" into
homosexuality, assaulted, raped, or sold into sexual slavery.
In 1988, I had taken a bus home for the weekend, and on the return
trip met someone who was also gay. The next day, I had a conversation
with Mr. Jennings about it. I had no sexual contact with anybody at the
time, though I was entirely legally free to do so. I was a sixteen
year-old going through something most of us have experienced:
adolescence. I find it regrettable that the people who have the
compassion and integrity to protect our nation's students are
themselves in need of protection from homophobic smear attacks. Were it
not for Mr. Jennings' courage and concern for my well-being at that
time in my life, I doubt I'd be the proud gay man that I am today.
– Brewster
Media Matters also published a shot of the student's drivers license.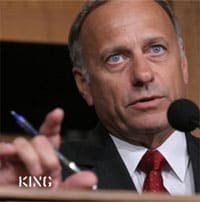 And homophobic Rep. Steve King (R-IA), who has been working hard to overturn Iowa's marriage equality laws, is the first member of Congress to call on Obama to oust Jennings: 
"Although Rep. King says he is opposed to the bullying of anyone in
schools, he also opposes conferring 'special protected status' on any
particular group. (Jennings and the Gay, Lesbian, and Straight
Education Network strongly support a federal anti-bullying bill, H.R.
2262, currently under consideration in the House, that specifically
includes sexual orientation and 'gender identity.') As for Jennings'
other work, King calls it 'a political movement. It's not about
protecting kids, it's about promoting homosexuality and demanding
public affirmation.' King says he plans to write a letter to President Obama about the
Jennings matter, and he also expects other members of Congress to join
him in calling for Jennings' removal."
As I said previously, the homophobic right-wing loons who are pushing this controversy don't want to see any gay man in this position, much less
one who has spent the better part of 20 years dedicating himself to
wiping out anti-LGBT bullying and promoting tolerance in the nation's
schools.