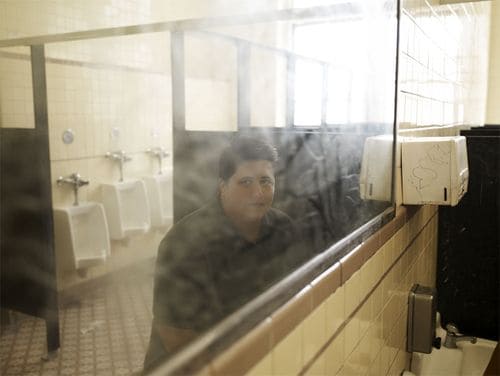 Chaz Bono is one of this year's OUT 100.
OUT Editor Aaron Hicklin sent over this photo and told us the magazine's starting to roll out this year's honorees.
Says Hicklin of the shoot with Chaz (above – click to enlarge): "He's the first of 100 people we shot, our annual roll call of honor, which this year was photographed entirely by Jason Bell, and themed around school given that adolescence is the time when most of us start coming to terms with our sexuality and who we are. Given that Chaz is transitioning, we felt shooting him in a boys bathroom was a powerful representation of his real identity, albeit with a touch of humor. Chaz was obviously up for the concept, too."
Chaz will be appearing on Entertainment Tonight this evening. He tells ET: "I shave about once a week now. It kind of started to come in just like peach fuzz. I always wanted to
shave. It is a very natural process. For my birthday I got a lot of
shaving stuff….Still not anywhere near what I will look like, but really for the first
time I am feeling much more comfortable with how I look physically….The most important thing about this for me is that my outsides are finally starting to match my insides…I feel like I'm living in my body for the first time, and it feels really good."