A panel of the 9th U.S. Circuit Court of Appeals reversed a September 11 ruling by U.S. District Judge Benjamin Settle keeping private the names of donors in the anti-gay campaign to put Referendum 71 on the Washington ballot.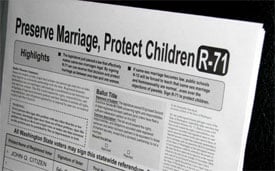 The Seattle Times reports: "Despite the appeals-court ruling, the names weren't immediately released. Janelle Guthrie, a spokeswoman for Attorney General Rob McKenna,
said her office must now ask a Thurston County judge to lift a
temporary restraining order issued Wednesday forbidding the release of
the petitions until the 9th Circuit could rule. 'These petitions are not like a secret ballot, but amount to taking
part in our legislative process, which is required to be open and
accountable,' Secretary of State Sam Reed said…Conservative Christian groups that sponsored R-71 want to keep the
signed petitions out of public view because they fear harassment from
gay-rights supporters. In its brief order, the three-judge appeals panel said Settle used
the wrong legal standard in granting the preliminary injunction that
barred release of the petitions, and that the injunction therefore must
be reversed. The judges said they would later issue an opinion explaining their reasoning."