Edmund White, who recently published a memoir of NYC life in the 1970s, gives an interview to Salon on a variety of topics, one of which is same-sex marriage. Says White, when asked of this generation's pursuit of gay marriage: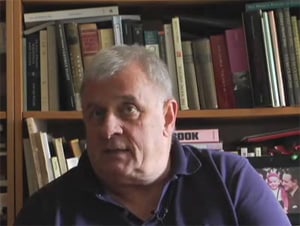 "I believe in promiscuity. But you know people are a lot morecomplicated than they appear to be. I mean, right now I'm in arelationship where I am faithful because my partner wants me to be, andI respect him enough — and it lowers the level of anxiety in ourrelationship. He's also extraordinarily hot…In the past, when gays were very flamboyant as drag queens or asleather queens or whatever, that just amused people. And most of thepeople that come and watch the gay Halloween parade, where all thoseexcesses are on display, those are straight families, and they thinkit's funny. But what people don't think is so funny is when twomiddle-aged lawyers who are married to each other move in next door toyou and your wife and they have adopted a Korean girl and they want tosend her to school with your children and they want to socialize withyou and share a drink over the backyard fence. That creeps people out,especially Christians. So, I don't think gay marriage is a conservativeissue. I think it's a radical issue."
Watch portions of the interview, AFTER THE JUMP…
And read the entire interview here.