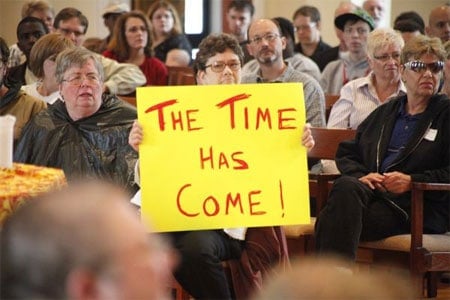 (image commercial appeal)
Approximately 250 people attended a rally at the First Congregational Church in Memphis yesterday in response to the destruction last week of a "Coming Out Day" billboard featuring a gay Marine discharged under "Don't Ask, Don't Tell".
Watch speeches, AFTER THE JUMP…
Commercial Appeal reports: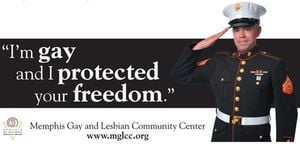 "In their battle for equality, gays and lesbians in Memphis must find and raise their voices, a former Marine told them. And raise a roar they did Sunday afternoon at First CongregationalChurch in the Cooper-Young community in a rally hosted by the MemphisGay and Lesbian Community Center. The crowd greeted former Marine Tim Smith, 27, with drumming, whistling, clapping and a standing ovation. Standing at a podium in the sanctuary, Smith described the oxymoron of being a gay Christian and his struggle to find his voice. 'I knew that when God looked at me as a gay man, he loved me for whoI am,' said Smith, who is now a student at the University of Memphis. 'When God made me, he didn't say, 'Oops.'' Hoisting colorful signs that read "Don't Ask, Don't Progress" and "Straight Against Hate," the crowd cheered."
According to the Memphis Flyer, "Despite Sunday's heavy rain, nearly every chair inside the worship hallwas filled. The rally was originally planned to be held outside thechurch…After the rally, county commissioner Steve Mulroy agreed: 'My messageto the billboard vandals is thank you for galvinizing (sic) the community andsymbolizing what we're up against in Memphis.'"
Four speeches from the rally, Will Batts and Heidi Smith from the MGLCC, billboard Marine Tim Smith, and Jennifer Warren, who is featured on one of the other billboards, AFTER THE JUMP…
Will Batts, Executive Director of the Memphis Gay and Lesbian Community Center, and Heidi Smith, President of the Memphis Gay and Lesbian Community Center:
Billboard Marine Tim Smith and Jennifer Warren, who is featured on another one of the billboards in the Memphis "Coming Out" campaign: