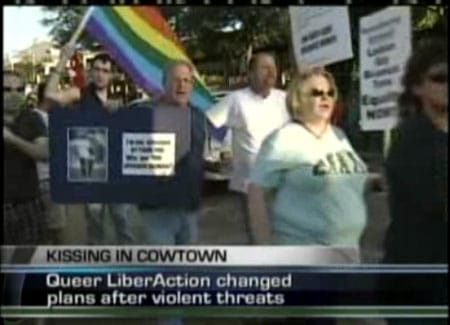 A "kiss-in" planned by the group Queer Liberaction at Fort Worth Stockyards, which bills itself as "the wholesome western experience of Fort Worth", turned into a loud demonstration on Saturday as counter-protesters arrived and the two groups squared off against one another:
The Star-Telegram reports: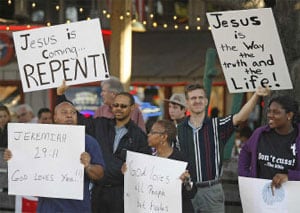 "About 40 members of Queer Liberaction said they needed to take astand against intolerance by carrying out public displays of affectionin what they considered an area not traditionally friendly toward gays. Theother group, mainly evangelical Christians and also numbering about 40,said homosexuality is a clear lifestyle choice, not a naturallyoccurring sexual orientation as many scientists believe. They beseechedLiberaction members to abandon their 'kiss-in' and come to Jesus Christas straight adults. The gatherings broke up peacefully. JoeRemsik, 37, leader of Liberaction's Fort Worth chapter, said thedemonstration was to let the public know about fears within the city'sgay community."
Watch a news report from The 33 TV, AFTER THE JUMP…