If you see a dickhead on the street this Halloween, chances are it could be James Franco.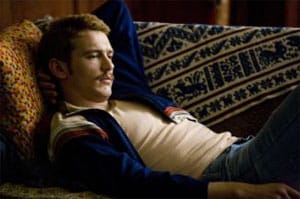 Erin Overbey reports on Franco's New Yorker Festival appearance over the weekend:
"'What's it like being a stoner icon?,' Lauren Collins asked James Franco, last night at the Cedar Lake Theatre. 'You know, people think I'm stoned anyway,' Franco replied. 'I don't
mind. People think you're a stoner, they think you're a fun, nice guy.' The conversation moved to biopics. Franco has starred in several,
including 'James Dean' (a TV movie) and 'Milk,' and he will play the
poet Allen Ginsberg in the soon-to-be-released 'Howl.' After a clip
from 'Milk' was shown, Franco admitted that he still had the prosthetic
penis he wore in the film, and that he'd actually made a mask out of it
for another film."
And Franco's latest gay career move?
"Asked if there was someone else he was dying to play,
the actor mentioned that he had bought the rights to Hart Crane's 'The
Broken Tower.'"
Crane was gay and committed suicide at sea in 1932. "The Broken Tower", one of his final poems, (and also the name of a biography of the poet by Paul Mariani), was written following a heterosexual affair, after which he continued sleeping with men. 
Previously…
James Franco to Join Cast of General Hospital as 'Mystery Person' [tr]
James Franco Enrolled in Queer Cinema Class at NYU [tr]
James Franco Gets Lathered Up [tr]
First Frame: James Franco as Allen Ginsberg in Howl [tr]