Despite the fact that claims regarding Safe Schools Chief Kevin Jennings relationship counseling a 16-year-old teen many years ago have been debunked, FOX News' Sean Hannity continues to hammer the issue, and the ridiculous suggestion that Jennings is a NAMBLA supporter because he once praised gay rights pioneer Harry Hay.
The Daily Beast reports: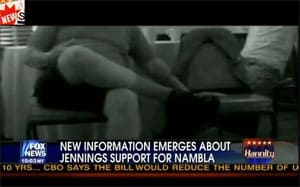 "It's hard to imagine anything more damning for a public figure than alink to some of the country's most shameless sexual abusers. Of course,when Hannity finally got to his "new allegations," the only thingshocking about them was their flimsiness. Jennings once expressedadmiration for the radical gay activist Harry Hay, co-founder of theMattachine Society, one of the earliest gay-rights groups in the UnitedStates. Hay advocated for the inclusion of NAMBLA in gay pride parades.A despicable position on Hay's part, sure, but one that Jennings hasnothing to do with, unless one believes that we're all morally culpablefor the actions of everyone we've ever praised."
The Washington Times and Breitbart have been distorting Jennings comments. Rush Limbaugh has been running with the smears as well.
There is a support Kevin Jennings Facebook group HERE.
Sean Hannity hosted Iowa Rep. Steve King (R-IA)  and former FBI Agent Bob Hamer to discuss NAMBLA, and later had on George Stephanopoulos who defended Jennings against the attacks.
Watch both clips, AFTER THE JUMP…