NYC organized crime has its very own "gay Vito". Federal Judge Jack Weinstein was stunned at a hearing for Robert Mormando when the hit man-turned-informant, who was being sentenced for the killing of Queens bagel store owner Angelo Mugnolo, renounced his life of crime and said he's gay.
The New York Daily News reports: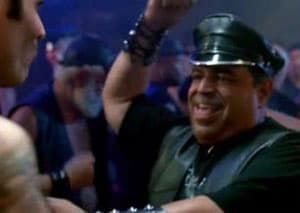 "Defense lawyer Nancy Ennis told the judge Mormando was given the contract a month after he was inducted into the crime family in 2002. 'He was summoned to perform an act that he found totally unacceptable afterward,' Ennis said. 'He did follow through, but he found the incident to be so disagreeable shortly after that he started having strong thoughts about leaving the mob. He was living in hiding, not from law enforcement, but from La Cosa Nostra.'
Ennis' biggest bombshell was announcing that Mormando is out of the closet.' He has been openly gay since he left the mob,' Ennis said.
Mormando's partner has refused to enter the witness protection program, but they have relocated and together they 'live a peaceful working life,' she said.
Members of the Mafia do not accept a gay lifestyle within its ranks although there is no specific rule that inductees must accept, like the prohibition from having an affair with another gangster's wife.
Former DeCavalcante crime boss John D'Amato was whacked in 1992 for being gay.
A burly gay hit man named Vito Arena was a member of the murderous Roy DeMeo crew. He, too, became a mob informant, but he returned to a life of a crime and was shot dead in a botched armed robbery.
In any event, Weinstein was more interested in asking Mormando what attracted him to the mob. 'As a young kid growing up in Ozone Park, John Gotti was a hero,' Mormando explained. 'He had cars. Power. I regret that now.'"