Tulsa resident Brandon Patrick was attacked by a group of three people while walking to a friend's house, after they provoked him with taunts and slurs.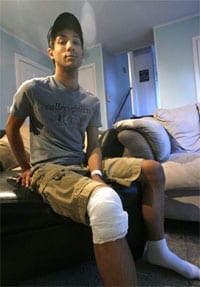 Tulsa World reports:
 "Three people followed Patrick down the 1300 block of South Rockford Avenue about 11:45 p.m., yelling homophobic slurs and threats, he said.
Patrick, who is gay, said he ignored the group until they closed in and then asked why they were accosting him without provocation.
The assailants then started beating, biting and slashing at Patrick with a blade, he said, leaving him with several cuts on his head and body.
The 23-year-old has been peppered with insults before, but he said he never thought they would escalate to violence. 'I've never felt scared or feared for my safety before,' he said. 'You brush it off and walk on. That's what you're taught to do. This time, it didn't work.'
Tulsa Police Officer Leland Ashley said the people who are accused of attacking Patrick are at large and were seen in a maroon Ford Mustang from the late 1990s or early 2000s.
Patrick described them as a woman in her early 40s and another woman and man, both in their late teens or early 20s."
The attackers were caucasian, KTUL reports, correcting their original erroneous report.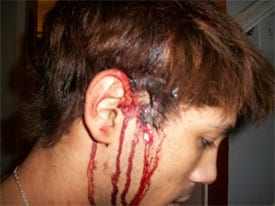 Queerty has some additional graphic photos of the beating and a report from Patrick's partner Sam Raines:
"They started out by calling him a faggot as he was walking down the street minding his own business and they told him not to look at them….but he didn't even look in their direction.
As he went around the corner they got in their vehicle which was a mustang late 90's early 00 model and sped toward him and the male got out of the car. he then punched him in the back of his head and that's when he started to have to defend himself. He kept telling them just to leave him alone and go about their business…
As he was restraining the male the older of the 2 females came at him and bit his cheek and began to saw at his head with a knife…then ended up stabbing him in the knee!"
Oklahoma's hate crime laws exclude sexual orientation.