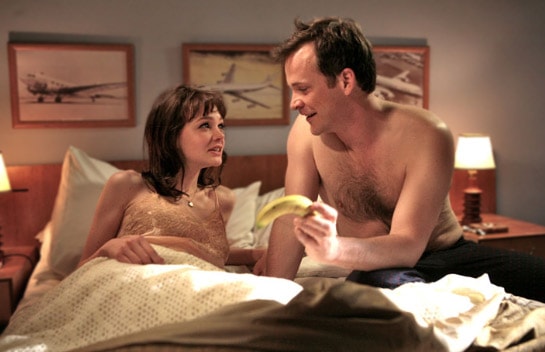 Nathaniel Rogers would live inside a movie theater but for the poor internet reception. He blogs daily at the Film Experience.
YOUR FEATURE PRESENTATION

Have you ever seen a star being born? It's a particularly thrilling film experience and contrary to popular conceptions of celebrity – from Warhol's 15 minutes meme to the enduring reality TV craze — true star breakthroughs don't happen every year. They're rare like comets or maybe even eclipses. You have a chance to see one this month as AN EDUCATION begins its platforming release and Carey Mulligan deservedly rises to the top of Hollywood's "must cast" list. In the fall's first obvious Oscar contender (expect a Best Picture nod) Mulligan plays Jenny, a 16 year old girl who is wise beyond her years… though not quite as wise as she thinks she is.
Jenny takes up with a much older man David (Peter Sarsgaard) who gives her, you guessed it, an education… but not only a sexual one. Then there's the not so small matter of Jenny's schooling. She's aiming for Oxford, egged on by her higher learning obsessed father (Alfred Molina).
But why is Dominic Cooper holding an armadillo?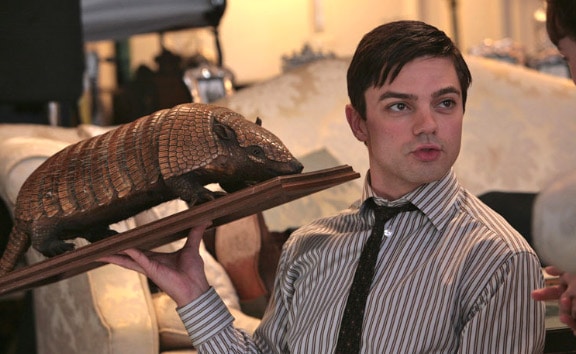 MORE, AFTER THE JUMP…
The darker realities of her boyfriend's life soon begin to come to light. David works and travels with the very well heeled Danny (Dominic Cooper arguably doing his best work yet) in some shady semblance of a fine arts dealing business. But Jenny, a sponge for actual experience after years of purely book learning, is still drawn to their world. At first Jenny's educations run parallel but soon life and school are in conflict.
An Education is essentially a well judged coming of age tale but what really lifts it into a higher realm is its very sharp ensemble of players (including a stunning glorified cameo by Emma Thompson as the headmistress) and Carey Mulligan herself. She's relatably moody, funny and utterly beguiling in this dream role. An Education trips over itself in the last act, especially with the overly cheery la-di-dah epilogue but the small stumbles hardly matter. By that point you've already tumbled for Carey Mulligan. You're hers. The Oscar might be, too.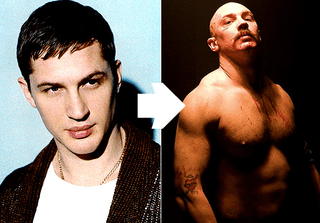 ALSO OPENING (links go to trailers)
An Education's dramatic girls school has a broader comedic counterpart over at ST. TRINIANS a British girls school comedy. Fans of Another Country (1984) should take note. The film sends Colin Firth and Rupert Everett back to school together (albeit in a hugely different context). There's also the prison bio BRONSON featuring a buzz-generating performance from rising actor Tom Hardy (pictured left, who reportedly gained 42 muscley pounds for the role). He plays convict Michael Peterson who refashions himself as 'Charles Bronson' while serving decades in prison, most of them in solitary confinement. More new limited releases include: ADVENTURES OF POWER written and directed by Ari Gold (no, not our Ari Gold. The other one.), sports drama THE DAMNED UNITED, GOOD HAIR a comic documentary with Chris Rock, a mixed chronology romance called PETER AND VANDY and the indie drama TRUCKER with the lovely and still undervalued Michelle Monaghan. Maybe this film will take her career up a notch.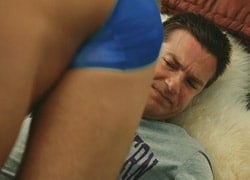 After last week's blood bath of multiple wide releases (Whip It, which I highly recommended, was sadly crushed by the competition) there's only one wide release, COUPLES RETREAT starring Vince Vaughn.  I guess the distribution gods are convinced that no movie could survive a showdown with what appears to be a terribly unfunny comedy about couples counselling. Complete with gay panic jokes! Haha. Oh chortle. Look how funny it is when men's crotches get too close to other men's faces. Ha ha. Oh, guffaw.