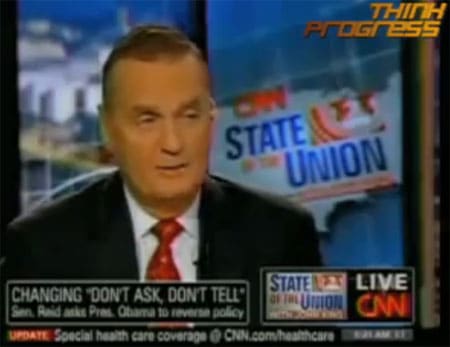 Earlier this week, Senate Majority Leader Harry Reid made a direct appeal to President Obama and Defense Secretary Robert Gates seeking guidance on the repeal of the military's "Don't Ask, Don't Tell" policy. Additionally, the Pentagon's top scholarly journal, Joint Force Quarterly, published an article calling for the repeal of the ban.
On State of the Union, CNN's John King asks National Security Adviser Jim Jones if it's time for the President to get involved in the repeal of the ban on gays in the military.
Says Jones: "The President has an awful lot on his desk. I know this is an issue that he intends to take on at the appropriate time. He has already signaled that to the Defense Department. The Defense Department is doing the things it has to do to prepare, but at the right time, I'm sure the President will take it on…Um, I don't think it's going to be — it's not years, but I think it will be teed up appropriately."
Watch, AFTER THE JUMP…