A forer Air Force Academy professor says she was "disciplined and barred from teaching" after she invited three gay academy grads to speak about "Don't Ask, Don't Tell" to her class: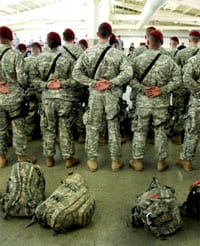 "Edie Disler said she was
given a 'letter of counseling' stating she should have gotten her
department head's approval beforehand. Disler said there was no such
requirement in place at the time. Disler said her punishment
was meant to 'send a strong message to the faculty that this topic will
not be discussed by someone in uniform.' Academy spokesman John
Van Winkle said the policy to get approval was in place at the time and
that she was disciplined for not following that rule. Van Winkle said the academy routinely invites speakers on controversial topics. 'We
don't shy away from controversial topics or speakers, but we are going
to make sure individuals who are coming in are coming in for the right
reason at the right time,' he said. "
In related news, a new report shows that women are much more likely than men to be discharged under "Don't Ask, Don't Tell":
"Women accounted for 15 percent of all active-duty and reserve
members of the military but more than one-third of the 619 people
discharged last year because of their sexual orientation. The
disparity was particularly striking in the Air Force, where women
represented 20 percent of all personnel but 61 percent of those
expelled. That is a significant jump from the previous year and marks
the first time women in any branch of the military constituted a
majority of those dismissed under 'don't ask, don't tell,' researchers
said. Nathaniel Frank, a researcher at the Palm Center, a
University of California, Santa Barbara, center specializing in gays
and the military, said one partial explanation is that homosexuality is
more common among women in the service than among their male comrades. But
Frank and some women who served in the military said the gap could also
be a result of 'lesbian-baiting' rumors and investigations that arise
when women rebuff sexual overtures from male colleagues or do not meet
traditional notions of feminine beauty."