UPDATED
49-year-old NYC hate crime victim Jack Price talked about the attack with the New York Daily News: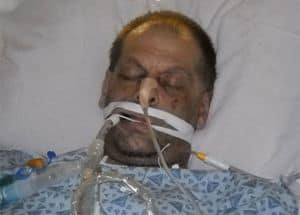 "'I thought I died…I was bleeding all over the place.'
With tubes running into his chest and nose, the resilient Price insisted he wouldn't want anyone else to face a similar fate. 'Better it was me,' Price said in a pained voice, the stitches along his broken jaw clearly visible. 'Someone else may not have survived it.'
"… The bruises on Price's face are healing, but his feelings toward Rodriguez and Aleman remain raw. 'I hope they rot in jail,' Price said. 'I don't understand how someone can do this to somebody. They almost killed another human being.'
Price said he was on his way home when Rodriguez and Aleman, both of whom he recognized from the neighborhood, began taunting him.
Speaking in Spanish, the pair of thugs called Price a 'stupid f—–' and 'dumb f—–,' he said. 'They didn't know I spoke Spanish,' Price said.
He ducked into a bodega to grab cigarettes, but when he emerged, Rodriguez and Aleman confronted him again. 'I know where you live, f—–,' one of the men said, Price recalled.' You better run away before he kills you,' the other said.
Moments later, the pair pounced.
Price said he doesn't remember much from the attack, only that he was surprised when he realized he was still alive. 'I took it pretty well,' said Price, who's unsure when he'll be released from the hospital. 'I still got home.'"
A vigil will be held today at 2pm today for Price in College Point, Queens:
"March and Rally in College Point on Saturday, October 17th, step off at 2pm. We'll be marching down College Point Boulevard from 20th Avenue until 14th Avenue and will then hold a rally/speakout at nearby Popenhusen playground. Directions: Take the 7 train to Main Street and then the Q65 bus from Roosevelt and Main Street to 20th Ave. Please bring signs without wooden sticks, banners, friends, and your best self."
Facebook info.
Background…
Alleged NYC Gay Basher's Father Speaks Out: 'I Caused Him the Harm' [tr]
Anti-Gay NYC 'Beatdown' Wasn't a Hate Crime, Says Friend with Leviticus Tattoo [tr]
Daniel Rodriguez, Second Suspect in NYC Gay Bashing, Brought In [tr]
Watch: Brutal NYC Gay Bashing Captured on Video [tr]
NYC Gay Man in Coma After Savage Beating; 1 Suspect at Large [tr]