According to Levi Johnston's trainer, in preparation for his Playgirl shoot, he's working out a lot and eating plenty of moose meat.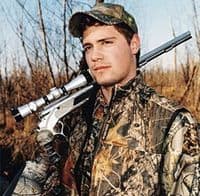 Johnston's trainer Marvin Jones spoke with People: "Moose meat is very good for you, high in protein and very lean. He's an avid hunter, so he has
his own."
According to Jones, Levi's on a 3,500 calorie-a-day low carb diet.
Adds Jones: "I'm not trying to give him a body builder's look. He's going to be more toned and more defined. I'd like to see him with rounder and more muscular shoulders, with a
fuller chest. We're going to firm his abs up, [and give him a] smaller
waist. I know that's something he wants to do and we're having fun training. We're looking
forward to revealing all his hard work!"
According to Gawker, the contracts are out: "Playgirl's spokesperson, Daniel Nardicio, told us that they
online magazine had sent off a contract to Levi and his managers, Tank
Johnson and Rex Butler,
earlier this week and they're just waiting on Levi to put his name on
the dotted line so they can start making final arrangements for the
shoot, which will go down in November here in New York. There will also
be some promotional appearances during Levi's trip to the big city. He
said that there is no stipulation in the contract about how much skin
Levi will or will not show and it will be decided at the shoot.