D.C.'s anti-gay marriage crusader Bishop Harry Jackson is profiled in the Washington Post on the heels of the recent decision by the D.C. Board of Elections and Ethics not to allow a ballot initative that would put the District's proposed marriage equality law before voters.
Says Jackson: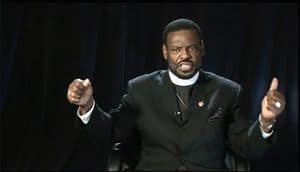 "Some of the smartest people I knew in college were gay. Some
black students I knew who were gay were off-the-charts smart…I don't know of anybody black who says, 'I hate gay people.' We're more
accepting generally. But you overlap that — homosexuality and gay
marriage — with broken families, and we don't know how to put it back
together….I believe that the Bible teaches that same-sex marriage is an
oxymoron. If you redefine marriage, you have to redefine
family. You'd have to redefine parenting. I'm looking at the extinction
of marriage. And black culture is in a free fall."