Congratulations to political strategist, civil rights activist, author, and fellow blogger David Mixner. I'm happy to announce he'll be receiving the Point Foundation's Point Legend Award at this year's NY Point Honors Gala.
The Point Foundation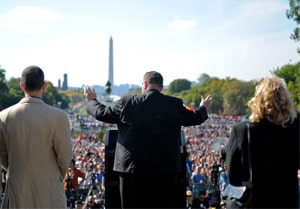 is the nation's largest scholarship-granting organization for lesbian, gay, bisexual and transgender (LGBT) students of merit. Point provides financial support, leadership training, mentoring and hope to LGBT individuals who are marginalized because of their sexual orientation, gender identity or gender expression.
Mixner will be presented the award by Victoria Reggie Kennedy, the widow of Senator Ted Kennedy. Said Vicky Kennedy: "David Mixner is one of the great civil rights leaders of our time. I am proud to join the Point Foundation in honoring him, just as my husband was proud to work over the decades with David to achieve full equality for all our people. Ted prized David as a powerful advocate, a teacher of truth, and a great friend. He is one of those rare people who bend history itself."
The Point Legend Award is presented to an individual who has, through the course of their lifetime, achieved greatness in their professional career and unapologetically supported the LGBT community. I was happy to be asked to be one of the co-chairs of this event and want to offer my biggest congrats to David!
The Point Honors Gala will take place on April 19, 2010 in NYC. More info here.