AZ Central reports that Equality Arizona has laid off its staff of two: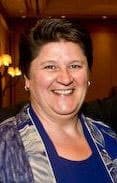 "The group, which is Arizona's only statewide advocacy organization for gay, lesbian, bisexual and transgendered people, laid off executive director Barbara McCullough-Jones (pictured)  and field coordinator Meta Goforth-Zinn on Friday. McCullough-Jones, who became the first openly lesbian woman to seek political office in Arizona when she ran for Tempe City Council in 1994, had led Equality Arizona since 2005.
"We're being careful in what we say right now," said Annie Groth, co-chairwoman of the Equality Arizona board, when we spoke with her on the phone this afternoon.
Groth confirmed the layoffs but would not address the motivation behind them, saying she first wanted to speak with a lawyer. McCullough-Jones did not immediately return a call to her cell phone."
Groth said that the group will be "re-characterized" and a statement may come today.
A message on the group's website cites the economic downturn and falling revenues.