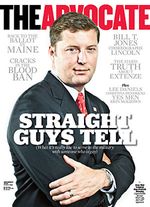 On Wednesday I posted about an attack on Here Media and The Advocate by former editor Judy Wieder. Wieder pulled the original (which was published on November 2 at 3:51 pm) and posted a new version two days later, saying she hadn't realized it was a rough draft (November 4 at 2:48 pm).
Writes Wieder: "Before I begin, I need to say that an earlier VERY rough draft of
this piece accidentally got posted. That never should have happened and
I apologize to anyone who saw it."
The magazine is now no longer a murder victim (What Killed the Advocate?) — but instead died a slow, and apparently painful death (The Not-So-Sudden Death of the Advocate).