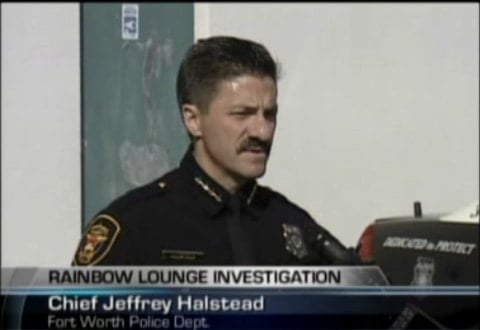 At a press conference yesterday, Fort Worth police chief Jeff Halstead announced that a chapter was being closed in discussing investigations related to the June raid on the Rainbow Lounge:
"Speaking at a news conference across from the bar, chief JeffreyHalstead acknowledged officers were overaggressive, creating anatmosphere of 'fear and confusion' in the bar. But he said none crossedthe line in how they handled people or went into the bar because of itsclientele. 'It was very clear from this inquiry that therewas no malice or ill will on the part of any officers who entered theRainbow Lounge,' he said."
In August, the Texas Alcoholic Beverage Commission fired three agents for their participation in the raid. Halstead's discipline to the Fort Worth force can only be described as insulting to those targeted in the raid:
Suspended fora variety of policy violations were Fort Worth police Sgt. R.M. Morris,and Officers K.Q. Gober and J.M. Back.

• Morris, whojoined the force in 1995, received a one-day suspension for "poorjudgment" in the way he conducted the bar check on the Rainbow Lounge."The decision to utilize a total of nine law enforcement officers tocheck a newly established club was excessive," his suspension letterstates. The investigation also found that he failed to followprocedures, such as checking liquor licenses or other permits.

• Gober, a nearly three-year veteran, received a one-day suspensionafter he arrested two bar patrons for public intoxication but failed tocomplete his police reports by the end of his shift. "This negativemedia attention could have been averted had Officer Gober completed therequired offense report," his suspension letter states.

• Back, a nine-year veteran, received a three-day suspension after hearrested a bar patron for having a "drunk look," which does not meetrequirements for a public intoxication arrest. Back released the patronto a friend after learning the friend was Fort Worth police employee.Back violated department policy by not issuing a citation to the patronbefore releasing him. "Officer Back's conduct in releasing the patrongave the appearance of favoritism and that he did not have sufficientcause to arrest the person," his suspension letter states.
Watch Halstead's press conference, AFTER THE JUMP…