Saying the University of Alabama Birmingham's policy of offering health benefits to same-sx partners runs counter to the state's ban on same-sex marriage, state lawmaker DuWayne Bridges has been gathering support for a proposal to block the benefits, the Birmingham News reports: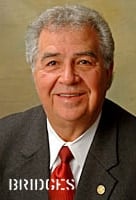 "Rep. DuWayne Bridges, R-Valley, said support is building among Republi­cans for a bill that would
prohibit the use of tax dol­lars for domestic partner benefits. 'I don't think the univer­sity should waste money by making a liberal or politi­cally correct statement,' he said Thursday. The bill would be aimed at the University of Ala­bama at Birmingham,
which last month began al­lowing employees to enroll domestic partners
of either
sex in its health insurance plan, with benefits
begin­ning Jan. 1. UAB officials have said they need to offer domestic
partner benefits so
their medical school can compete with other top schools, which routinely do so."
Openly gay state rep. Patricia Todd spoke out against the Bridges plan: "We don't know how many gay, lesbian and transgender people there are
in the country or even in Alabama, but we know that we're present and
we make a contribution and we're not asking for any more or less than
any other group of folks. We just want equality. Like it or not, Rep. Bridges, the world is chang­ing and people are accept­ing more diversity."