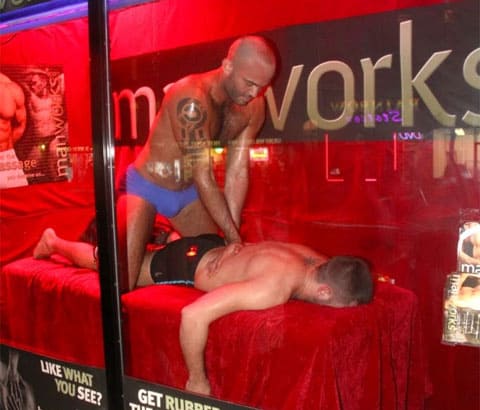 (image kenneth in the 212)
Last Friday night, a live erotic massage window display at the Blue Store on Eighth Avenue in Chelsea was shut down by the NYPD:
"According to Daniel Lee, director of manworks.com, the massages, which
took place in the window of the Blue Store, on Eighth Avenue between
20th and 21st streets, did not involve nudity or lewd acts. 'It think
it was prejudice,' Lee said yesterday. 'It was perfectly legal massage,
what was happening in the window.'"
The live event was promotion for a website, AMNY reports:
"About an hour after the massages began at 6 p.m., Lee said cops
showed up and told him to shut it down. He complied, though he was
issued no summons and the officer would not tell him what laws were
broken, he said. The cop said onlookers – who numbered about 15 – were
blocking the sidewalk, according to Lee. Police said  cops responded to the scene after a man who had been
walking with his son saw the display and  called the local precinct to
complain. Cops confirmed no summons was issued. 'It seems there was some kind of moral objection to what we were doing,' Lee said."
Now the owner of the store is upset because, he says, the police will be watching him now.
Related…
NYC Activists and Leaders Protest False Arrests of Gay Men by NYPD [tr]