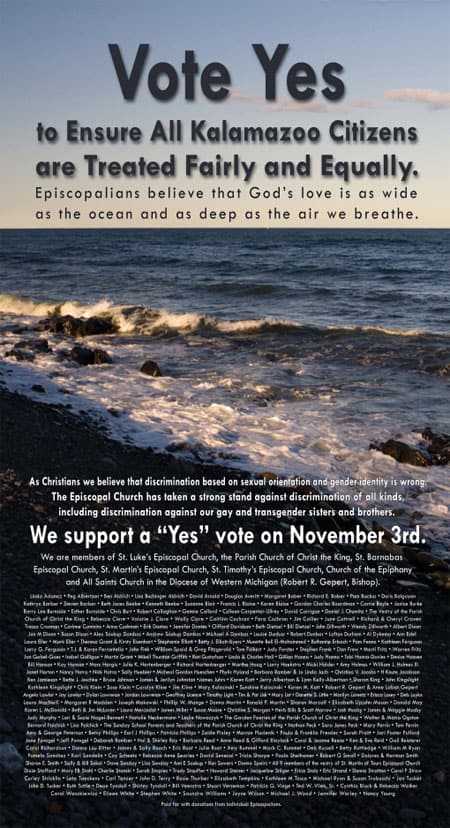 Note: Political director Corey Johnson and I will be live-blogging
election results this evening here on the site. Please join us.
Kalamazoo, Michigan-area Episcopalians wanted to counter the Roman Catholic Bishop, who has publicly opposed the anti-discrimination ballot measure up for a vote there today, so they raised $7,000 in donations from individual Episcopalians to put a full page ad in Sunday's paper and demonstrate to area voters that not all Christians are anti-gay.
Said Rev. Cynthia Black, Rector of the Parish Church of Christ the King in a press release: "Our denomination was very clear this past summer when it's legislative convention met in Anaheim, California. As Episcopalians we are to actively work to defeat discrimination of any kind, especially discrimination against our transgender and gay sisters and brothers. We tossed around a lot of ideas, and finally settled on two: to raise money and signatures for a full page ad in the local paper, and to go door to door, sharing our perspective on why a 'Yes' vote is necessary. We had no idea if we could raise the $6000 necessary for a full page color ad, so we sought a grant for matching funds. When that didn't come through, we decided to step out in faith, and raise the entire $6,000 ourselves. It's a wonderful position to be in, and clearly demonstrates the conviction of Episcopalians in this area."
The full-page ad above ran in the Kalamazoo Gazette on Sunday. The Rev. Beth McLaren, Associate Rector of St. Luke's Episcopal Church, and The Rev. Anne Reed of the Diocese of Western Michigan were also involved.
As I mentioned yesterday, the opposition has been running fear-mongering ads trying to scare voters into believing they will be sharing the bathroom with transgender predators should the ordinance pass.