Two students at Georgetown University were targeted in anti-gay assaults this week, The Hoya reports: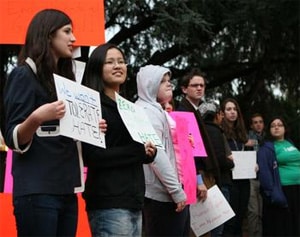 "According to a DPS Public Safety Alert, a male suspect repeatedly asked the victim, 'Are you a homo?' before physically assaulting the victim. The victim was taken to the emergency room of Georgetown University Hospital by GERMS to be treated for injuries sustained in the assault.The PSA e-mailed to campus Sunday afternoon said the incident was reported at about 1:32 a.m. Sunday morning, but did not specify when the incident took place.The suspect was described as a white male wearing red and white face paint and a black leather jacket. DPS notified the Metropolitan Police Department and an investigation is in progress, the PSA said.A female student was allegedly physically assaulted on Canal Road last Tuesday by two unknown males after being taunted on the basis of her perceived sexual orientation. She said she was wearing a T-shirt expressing support for gay rights at the time."
Georgetown students rallied against the incidents in Red Square on Sunday night. (image the hoya)
Additionally, an anti-gay slur was written across the door of the school's LGBTQ Resource Center.
The University sent out an email: "As a Catholic and Jesuit university, we are committed to fostering a community that is welcoming to all and values understanding, tolerance, inclusion and respect. Over the past week, we have seen several incidents take place on or near campus that are especially troubling because they have targeted members of our community with homophobic language and disrespect. Two incidents were off campus assaults and today a written slur was posted on the door of the LGBTQ Resource Center. These acts are unacceptable. We take these incidents and the safety of our campus community very seriously and are taking steps to address the needs of our students at this time."
Watch a report on the attacks from MyFoxDC, AFTER THE JUMP…