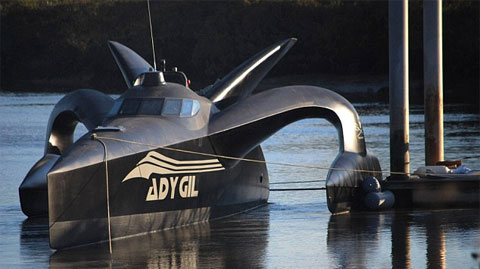 They're now apparently being protected by Batman:
"The mean-looking Ady Gil is the Sea Shepherd Conservation Society's newest weapon in their ongoing battle against Japanese whalers.
The trimaran – previously known as Earthrace – recently set the world powerboat record for circumnavigation. Described as a 'wave piercer' which can submarine up to 23 feet underwater, the craft completed the round-the-world trip using 100 per cent renewable biodiesel fuel, with a net zero carbon footprint.
The 24,000 nautical mile journey took just 60 days, 23 hours and 49 minutes, smashing the previous record by over two weeks.
Now the newly-renamed vessel has been unveiled as the Sea Shepherd's new weapon in the organisation's sixth campaign against whaling, Operation Waltzing Mathilda, which will launch from Australia early next month."