The NYT makes note of a provision in the health care bill proposed by Rep. Jim McDermott (D-WA) which would correct unjust tax laws for domestic partners: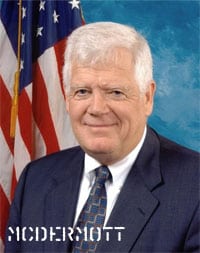 "Supporters of gay rights have long been trying to change the tax
treatment of health benefits provided by employers to the domestic
partners of their employees. In effect, such benefits are now treated
as taxable income for the employee, and the employer may owe payroll taxes on their fair-market value. Under
the bill, such benefits would be tax-free, just like health benefits
provided to the family of an employee married to a person of the
opposite sex. Representative Jim McDermott, Democrat of
Washington, who proposed the change, said it would 'correct a
longstanding injustice, end a blatant inequity in the tax code and help
make health care coverage more affordable for more Americans.' Joseph R. Solmonese, president of the Human Rights Campaign, a gay
rights advocacy group, said federal tax law had not kept up with
changes in the workplace. 'I meet people all the time who are
gratified they work for companies that offer domestic partner
benefits,' he said. 'But they pass on the benefits because they cannot
afford the taxes that go with the benefits.'"
HRC Back Story makes note of several other LGBT-related provisions in the health care bill.
After passing the House on a 220-215 vote (chart) over the weekend, the bill now heads to the Senate where it faces as tough, if not tougher, a battle as it did in the House.