UPDATED
After a school board meeting that went late into the night, members decided to give teacher Dan Delong a warning and allow him to return to class:
"Last night, a crowd of students showed up at DeLong's disciplinary hearing to show their support for the teacher.Following the meeting, Delong issued a joint statement with the Board of Education of Southwestern CUSD 9. 'I agree with the Board that the material in my class was not age appropriate for my sophomores and for that, I apologize. I understand the Board has decided that I shall receive a Notice of Remedial Warning,' he said in the statement.DeLong also said that the administration's concerns centered not on 'sexual preference or homophobic condemnation,' but rather 'the age appropriateness of the material.'DeLong's students say the reading material was optional.His supporters, which included former and current students, call DeLong and inspiration.' He gave you controversial issues and you got to choose your opinions on them were,' Katie Trombetta, a former student, said. 'He didn't put his beliefs on you. You got to figure out your own beliefs.'"
Watch a news report, AFTER THE JUMP…
Yesterday:
Dan Delong (pictured below, with one of his students), a teacher at Southwestern High School in Piasa, Illinois, has been suspended for assigning his classes an article that appeared in Seed magazine (you can read it here) about homosexuality in the animal kingdom.
The Telegraph reports: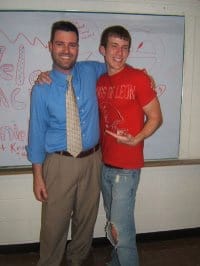 "Southwestern School District Superintendent Larry Elsea was notavailable for comment Wednesday or Thursday, nor was Marcus Albrecht,the union representative for the Illinois Education Association thatrepresents the district's Southwestern Education Association members. According to an e-mail sent to The Telegraph from a former student,Delong has the support of more than 400 parents, students and friends,seeking to have him reinstated. The article that Delong had his students read was written by JonahLehrer and quotes Joan Roughgarden, a biology professor at StanfordUniversity who challenges Darwinian sexual selection by documentingmore than 450 animal species that engage in homosexual behaviors."
Said Delong: "I have been suspended, but not without pay. But I would rather not comment further until I speakwith my union representative."
A special meeting of the school board is taking place tonight to discuss Piasa's fate.
Via Wicked Gay Blog, which reports: "My source tells me that DeLong is a straight married man with two kidswho is an ally of the GLBT community and was simply trying to educatethrough this assignment."
There has been a Facebook page set up in support of Delong.
Watch a news report from local station KTVI, AFTER THE JUMP…