The Cincinnati Bengals are signing former Kansas City Chiefs running Larry Johnson just over a week after he was released following a suspension for calling two reporters "faggots" and directing a similar slur at a fan on Twitter:
The Kansas City Star reports: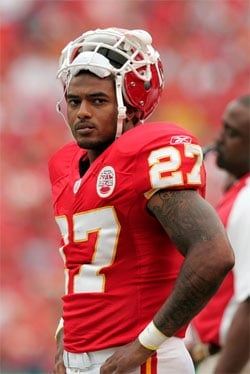 "Peter Schaffer wrote in an e-mail that Johnson's deal would be
finished early Tuesday, a day after Johnson reportedly was in
Cincinnati to meet with Bengals coaches. Reports surfaced Monday that
Johnson, who was released last week by the Chiefs after 6 seasons, was
being courted by the Bengals after running back Cedric Benson suffered
a hip injury in Sundays win against Pittsburgh. Bengals coach
Marvin Lewis told local reporters Monday that, if his team signed
Johnson, the 29-year-old rusher would be insurance to Cincinnati's
ailing running backs corps. Johnson will at least start his time with
the Bengals as their fourth-string running back."
Equality Cincinnati called the move by the Bengals "a slap in the face."
Said executive director Lesley Jones: "We do not think that would be a favorable decision on the part of the Bengals.
We would see this as a slap in the face to all the work we've done for equality and LBGT rights in Cincinnati.
[The Bengals] must take action to prove that they support equality and LBGT rights in the city."