The Health, Education, Labor and Pensions committee began holding hearings on a fully-inclusive Employment Non-Discrimination Act this morning at 10 am.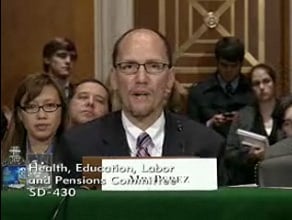 You can watch a webcast of the hearings HERE.
Unfortunately, there are no transgender witnesses on the panel. HRC says it has submitted written testimony from two trans witnesses, HRC Board of Directors Member Meghan Stabler [pdf] and HRC Associate Director of Diversity Allyson Robinson [pdf].
Americablog notes: "The bill is sponsored by Senator Jeff Merkley (D-OR) and has 42 co-sponsors. The Majority Leader, while not a sponsor, is a strong supporter of ENDA."
Witness testimony list, AFTER THE JUMP…
National Gay and Lesbian Task Force executive director Rea Carey released a statement: "We are on the heels of the Matthew Shepard and James Byrd, Jr. HateCrimes Prevention Act being signed into law. Without understating theimportance of this monumental victory, the lesbian, gay, bisexual andtransgender community needs ENDA, and we need it now. Thepath that too often ends in victimization begins with bias anddiscrimination in the workplace. ENDA must be a top priority as wepress forward in the movement for equality. Our friends, families, neighbors — even strangers — have longbelieved that workplace discrimination against LGBT people is wrong. Noone should be prevented from earning a livelihood and providing fortheir families simply because of who they are. ENDAreflects the core U.S. values of fairness and equality. Peoplerecognize that our nation as a whole benefits when everyone is allowedto contribute their talents and skills, free from discrimination, whichis all ENDA seeks to do."
Witness Testimony
Panel I
Tom Perez, Assistant Attorney General, Civil Rights Division, United States Department of Justice, Washington, DC
Panel II
Helen Norton, Associate Professor of Law, University of Colorado School of Law, Boulder, CO
The Honorable Lisa Madigan, Attorney General, State of Illinois, Chicago, IL
Virginia Nguyen, Diversity & Inclusion Team Member, Nike, Inc., Beaverton, OR
Mike Carney, Police officer, City of Springfield Police Department, Springfield, MA
Craig Parshall, Senior Vice President and General Counsel, National Religious Broadcasters Association, Manassas, VA
Camille Olson, Partner, Seyfarth Shaw, LLP, Chicago, IL