Former NYC Human Rights Commissioner and AIDS Activist Dennis deLeon died today in Manhattan at the age of 61, the NYT reports: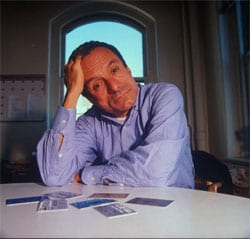 "The cause was heart failure, said Bruce Kiernan, Mr. deLeon's companion for 32 years. Mr. deLeon learned he was H.I.V.-positive in 1986 and had grown weaker in recent years, Mr. Kiernan said.
Mr. deLeon had been human rights commissioner for three years when he disclosed his condition in an Op-Ed article in The New York Times in 1993. At the time, AIDS bore far more of a stigma than it does today, and, he said, he had been struggling for years about whether to go public. 'When I contemplated disclosure,' he wrote, 'I felt that my hope to continue contributing to society as a lawyer and human rights activist was threatened. Would I be evaluated on my merits if I sought to be a judge, a law professor, a law firm member or a governmental appointee?'
In his article, Mr. deLeon commended two other officials — Thomas K. Duane, then a City Council member and now a state senator, and Ronald Johnson, the city's AIDS services coordinator at the time — for previously disclosing their H.I.V.-positive status. Until then, Mr. deLeon said, only his mother, his partner and Mayor David N. Dinkins had been aware of the situation."
DeLeon soon after became president of the Latino Commission on AIDS, a two-person organization he grew into one with a staff of 45.
Above, a portrait of deLeon in 1996 from Life magazine.
Said Governor David Paterson in a statement: "It is with great sadness that I learned today of the passing of Dennis de Leon. Building from a successful career as a civil rights attorney in California, Mr. de Leon became deputy Manhattan borough president in 1988, and, in 1990, chair of the New York City Commission on Human Rights. Since September of 1994, he served as president of the Latino Commission on AIDS.
"Mr. de Leon was instrumental in raising the issue of AIDS in the Latino community and transforming the conversation from one of shame and dishonor to care and responsibility. His legacy as a civil rights advocate, AIDS activist and leader in the LGBT community will live on in his work and all those he influenced along the way. I extend my deepest sympathies to Mr. De Leon's family, friends, and colleagues."