More kiss-ins: Geneva, Lima, Liège, Montréal...

POLL: New Jersey Catholics support marriage equality while protestants oppose it.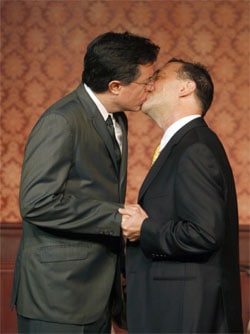 Stephen Colbert plants a wet one on Dave Razowsky as part of a skit during the 50th Anniversary of Chicago comedy troupe The Second City over the weekend.

Hugh Jackman shows St. Barts almost every part of his anatomy.

Glenn Beck-loving grandmother storms out of church after pastor denounces "being gay as the worst sin."

Presiding Episcopal Bishop Katharine Jefferts Schori calls for prayer over election of gay bishop Mary Glasspool.

Eh, the Michael Bolton waves aren't really doing it for me, Henry Cavill.

WaPo looks at gays at Georgetown University: "At a Catholic and Jesuit university, we most certainly can 'advocate'
for LGBTQ students. We can and must advocate for respect, inclusion,
understanding, safety, mentoring, dignity, growth and equal
opportunity. We can and must advocate for freedom from prejudice,
exclusion, discrimination, and homophobia."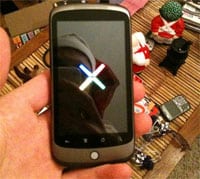 Google Phone appears. NYT report: "Google employees who spoke on the condition of anonymity because plans for the phone were supposed to be confidential said that the device, manufactured by the Taiwanese company HTC, was thinner than Apple's iPhone, with a slightly larger touch screen. It could be available as early as January, they said."

Rep. Tammy Baldwin down with swine flu.

More travel issues for gay partners of U.S. lawmakers.

The cast of Jersey Shore takes its Guido-ness to Hollywood.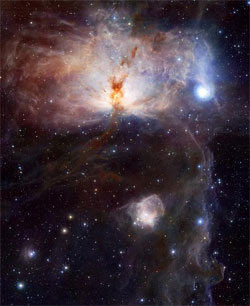 Powerful telescope goes into service in Chile: "In its first five years, the telescope will be used for six major
sky surveys, including one of the entire southern sky. Other studies
will examine smaller regions in greater detail. The telescope can detect faint sources and cover wide areas of sky
quickly. Each image captures a section of sky about 10 times the area
of the full moon."

Meet the cast of RuPaul's Drag Race season 2.

Grinch steals rare conifer from arboretum, likely for use as Christmas tree.

Male model fix: Clark Mallon.

Time's always right for Ryan Gosling.

Jamaica: Blinded gay man pleads for return of lover who gouged his eyes out.
"Pryce, who lost his sight after his eyes were gouged out by his
32-year-old partner, Arthur McTaggart, on November 22, told Resident
Magistrate Sonia Bertram-Linton that since the incident it has been
very hard for him to cope and, as a result, needed McTaggart's help at
home.
Resident Magistrate Bertram-Linton told Pryce, during the start of the
preliminary enquiry, that she could not throw out the case despite
Pryce's passionate plea for McTaggart's release."