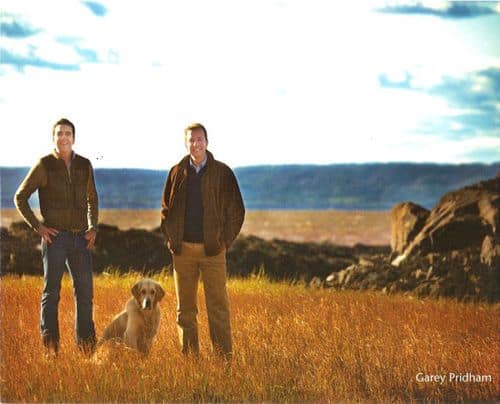 Openly gay Canadian MP Scott Brison (who was Canada's first openly gay member of Cabinet) sent out the above photo on a Christmas card this year.
It's not an unusual or controversial image, but it is making the papers:
"Scott Brison describes it as 'Canadian Gothic.'
…  'Just a couple of guys and their dog standing in a field,' he says about his Christmas card this year. But there are others, the Nova Scotia Liberal MP says, who are describing it as 'The Brokeback Brisons' – an homage to the Ang Lee movie about two gay cowboys and their love affair on a Wyoming mountain.
This is the first time, meanwhile, the couple has posed together for a Christmas card and it is likely the first same-sex married-couple MP Christmas card…It was sent to about 5,000 friends and constituents. The photo was taken by Windsor, N.S., photographer Garey Pridham.
Mr. Brison says he wasn't trying to make any sort of political statement with the card. Rather, the couple had never gotten around to having photos taken. But this past Thanksgiving they took advantage of a wedding gift to do a shoot. (Mr. Brison made history when he became the first federal politician to marry his same-sex partner in August, 2007.) They liked the images and decided to one for their card."
One day we'll look back and think it so strange that this was thought of as something out of the ordinary.