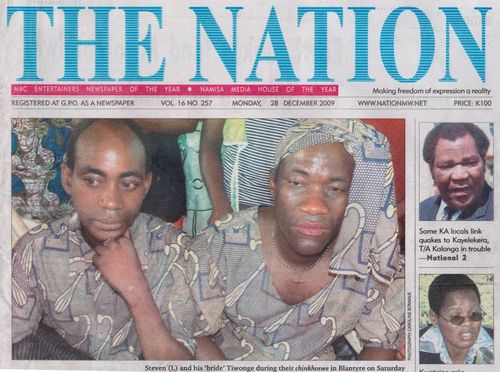 Tiwonge Chimbalanga and Steven Monjeza, who 'married' in a symbolic ceremony at Mankhoma Lodge in Blantyre on Saturday, defying the nation's anti-gay laws, have been arrested:
 "[Chibalanga and Monjeza] are to be charged with gross public indecency, police say. 'We arrested them because they committed an offence; homosexuality in Malawi is illegal,' police spokesman Davie Chingwalu told the BBC.
Tiwonge Chimbalanga and Steven Monjeza held a traditional engagement ceremony over the weekend – believed to be the first gay couple in Malawi to do so.
Homosexuality carries a maximum prison sentence of 14 years in Malawi.
The pair are being held in separate cells in Blantyre until their case is heard, Mr Chingwalu told the BBC's Network Africa programme.
They are due to appear in court on Wednesday."
Previously…
Two Men Defy Anti-Gay Laws, Wed in Symbolic Ceremony in Malawi [tr]
(image source)