Barney's creative director Simon Doonan will be decorating the White House for Christmas this year, the Caucus reports: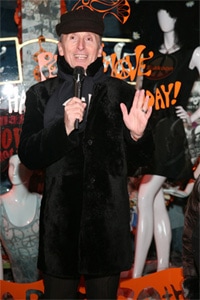 Mr. Doonan, the creative director of Barneys New York and a tart-tongued columnist in The New York Observer,
was selected several months ago to organize this year's public displays
for the holidays, the Obamas' first in the White House, according to a
person familiar with the planning.

While the White House wouldn't confirm the choice, several
volunteers and florists were gathered at the presidential mansion to
begin installing the annual displays over the weekend, after the White
House Christmas tree, a Douglas fir from Shepherdstown, W.Va., arrived
there on Friday.


Although Mr. Doonan's connection to a luxury retailer may raise some eyebrows, given the scrutiny over Michelle Obama's
every wardrobe selection, he is the latest in a line of celebrity
decorators to make over the White House for the holidays. Under Bill Clinton, displays were created by Polo Ralph Lauren's creative services department, as well as the late floral designer Robert Isabell.

Details surrounding this year's decorations have been under tight
wraps, but they are expected to include a selection of artworks by
children. Certainly, they will be less controversial than Mr. Doonan's
displays for Barneys for more than two decades, which have
alternatively fascinated and horrified holiday shoppers. Past themes
have included hippies, Sigmund Freud, Warhol, celebrities on Vanity Fair covers. At least one American politician. Dan Quayle, in a display in the 1990s, was depicted as a ventriloquist's dummy.
Good for the witty and talented Doonan. I do wonder, though, if this is the first time the White House has been decorated for Christmas by someone America considers a second-class citizen?
Note: Simon Doonan was married to his partner Jonathan Adler in California in September 2008, so their marriage is valid. That last remark was meant to be taken in a broader sense.