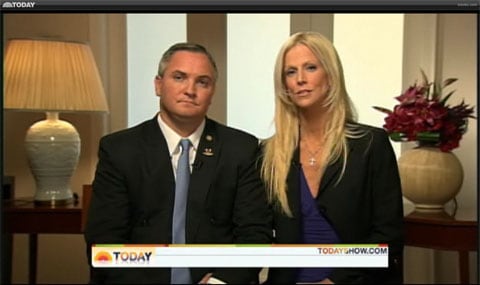 Tareq and Michaele Salahi gave their first interview this morning to the Today show. Describing their experience as "unbearable", the Salahis said that their lives "have been destroyed" after being characterized as the White House "party crashers".
Said Michaele: "We were invited. Not crashers. There isn't anyone who would have the audacity to do that. The White House is THE house. No one would do that, and certainly not us."
The Salahis have met with the Secret Service, and claim they have documentation that will prove they were not at fault. The couple feels they will be completely exonerated.
The White House is still pissed: "Appearing on the same program, [White House press secretary Robert] Gibbs insisted the Salahis had not been invited. 'This wasn't a misunderstanding,' Gibbs said. 'You don't show up at the White House as a misunderstanding.' Interviewed on MSNBC, Gibbs said 'it's safe to say he (Obama) was angry. Michelle was angry.' Gibbs noted that the Secret Service is investigating what went wrongand said the White House was also re-examining its procedures. He toldthe network, 'I think the president really had the same reaction theSecret Service had, and that was great concern for how something likethis happened.'"
Watch, AFTER THE JUMP…
Previously…
White House Party Crashers Met Obama, May Have Had Inside Help [tr]
Uninvited Couple Defies Security, Crashes White House State Dinner [tr]
Visit msnbc.com for breaking news, world news, and news about the economy