According to the D.C. police the shooting was targeted and not random. DC Agenda reports: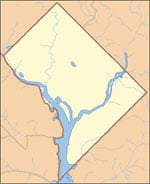 "Police said they found Anthony J. Perkins, whom they described as a 'shooting victim,' seated inside of a car on the 2900 block of 4th St., S.E., about 5:15 a.m. Dec. 27. A police statement says the car had steam billowing from its engine when officers responded to reports of the sound of gunfire. 'D.C. Fire and Emergency Medical Services Department personnel responded to the scene, but could find no life signs,' the statement says.
The statement says Perkins was a resident of the 1800 block of T Street, S.E., which is located about two miles from where he was killed.
A resident on the block where Perkins lived told DC Agenda it was well known among his neighbors that he was gay. The resident said Perkins lived with his mother."