GLAAD issued a a couple of awkward statements late yesterday siding with ABC on the Adam Lambert controversy.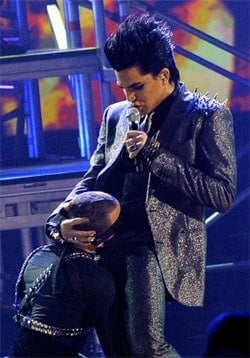 ABC's statement to GLAAD: "Given the live nature of the American Music Awards, Adam Lambert's performance, which differed greatly from his rehearsal, caught many, including the network, off guard. This is not a question of Lambert's sexual orientation. As is evidenced by GLAAD's media report card, ABC is at the forefront of positive gay and lesbian portrayal on television. We welcome openly gay performers and look forward to continuing our great work within the LGBT community."
Said GLAAD President Jarret Barrios: "It would appear that the kiss between Adam Lambert and his keyboardist did not factor into ABC's decision. ABC has a history of positive gay and transgender inclusion that includes featuring kisses between gay and lesbian couples on-air. We applaud the visibility of openly gay performers and congratulate Adam Lambert for sharing his story on the Ellen DeGeneres Show this week as well as his upcoming appearance on The Jay Leno Show."
Later, GLAAD added a clarification it said was in response to some media outlets taking the statement out of context:
"Since his American Music Awards performance occurred GLAAD has consistently advocated that Adam Lambert and openly gay artists not be held to a double standard. As we have expressed publicly, it is disappointing that ABC will not give Lambert a chance to perform at this time. GLAAD's discussions with ABC focused on confirming that his sexual orientation was not a factor in their decisions. ABC confirmed this is not about a same-sex kiss or his sexual orientation but about being 'caught off guard.' GLAAD asked ABC and calls on them for clarification on 'caught off guard' so that the community knows why Lambert is being denied the opportunity to perform on the network."
Previously…
Double Standard: CBS Early Show Blurs Adam Lambert Gay Kiss, Then Shows Britney-Madonna Kiss Moments Later [tr]