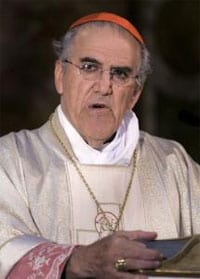 Mexican Cardinal Javier Lozano Barragan unleashed a torrent of offensive remarks about gays and trans people yesterday.
Said Barragan, the retired head of the Vatican's Council for Pastoral Assistance to Health Care Workers: "Transsexuals and homosexuals will never enter the kingdom of heaven and it is not me who says this, but Saint Paul. People are not born homosexual, they become homosexual, for different reasons: education issues or because they did not develop their own identity during adolescence. It may not be their fault, but acting against nature and the dignity of the human body is an insult to God. Homosexuality is therefore a sin, but this does not justify any form of discrimination. God alone has the right to judge. We on earth cannot condemn, and as human beings we all have the same rights."
Vatican spokesman Jesuit Father Federico Lombardi responded to reporters' requests for a reaction:
"First of all I would like to point out that the site, pontifex.roma.it, lacks authority and is not a good source for understanding with objectivity the church's thoughts on complex and delicate issues like evaluating homosexuality. It would be better, for example, to refer to the Catechism of the Catholic Church, which does talk about homosexual acts as 'disordered,' but takes into account the fact that 'the number of men and women who have deep-seated homosexual tendencies is not negligible. [Homosexuals] must be welcomed with respect and sensitivity, and 'every sign of unjust discrimination in their regard should be avoided.'"