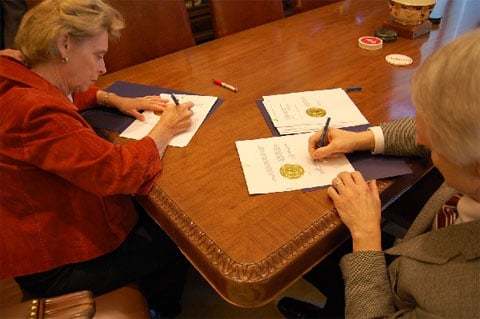 This is Washington Governor Christine Gregoire and Secretary of State Sam Reed certifying the results of the November election in which Referendum 71 was approved by voters:
"The new law had been on hold pending the public vote, and will now go into effect at 12:01 a.m. Thursday, 30 days after the Nov. 3 General Election. The law is Senate Bill 5688 and applies to state-registered domestic partners, both same-sex couples and opposite-sex couples where at least one partner is 62 or older.
According to the canvass of returns certified by Secretary Reed and later proclaimed by Governor Gregoire, R-71 had 951,822 votes to approve the law and 838,842 to repeal."
Gay couples in Washington state now have everything but marriage.