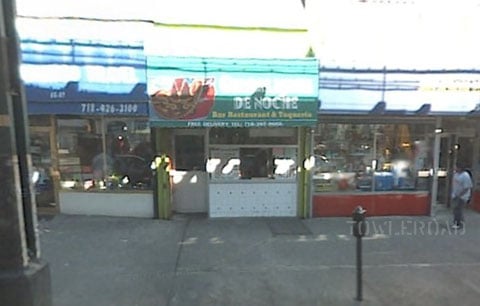 UPDATED BELOW
A gay man was assaulted by bouncers at a Mexican bar/restaurant in Queens after he got up from his seat to dance with his partner on Saturday.
The NY Post reported on Thursday:
"Tarlach MacNiallais, 47, was punched and kicked and had a chair smashed over his head in the attack by two security guards at the Guadalajara De Noche restaurant in Jackson Heights at 12:43 a.m. Saturday, police said.
The attack is being treated as a possible hate crime. '[The bouncer] said, 'You can't do that here, this is not a gay bar,' MacNiallais told cops. 'I said I have just as much right as anyone else.'
MacNiallais — spokesman for the Irish Lesbian and Gay Organization, which is best known for its annual fight to march in the St. Patrick's Day Parade — said the bouncers wrestled him to the ground and dragged him away from other dancers before they attacked him.
He was treated for cuts and bruises at Elmhurst Hospital Center."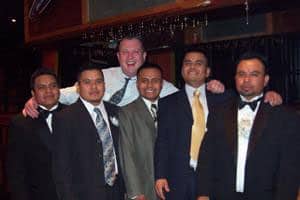 MacNiallais gives a much more thorough account of what happened to the Irish Voice. He says he went to the bar with his partner Juan, who is Mexican and four of Juan's brothers:
"When a song that MacNiallais liked came on, he suggested to his partner
that they dance. They got up, and MacNiallais led his partner to the
floor. This simple act signaled to onlookers that they were probably
gay…But before they had even got started, a man, described as an
employee of the nightclub, came over to the couple and said: 'You can't
do that in here. This is not a gay bar.' … 'To be quite honest I thought he was joking. I didn't even look at him,' continued  MacNiallais. 'I turned around and said, 'We have as much right to dance as anyone else.'' Immediately, MacNiallais was yanked from behind. He was thrown against a wall and then punched repeatedly on the face and chest. 'They
knocked me to the ground. They started kicking me. They were shouting
'this is not a gay bar' over and over. I didn't fight back because I'm
not a violent person. But I did think I wasn't going to let them throw
me out. I did have a right to be there. If they had asked me to leave I
would have, but they didn't do that. Instead they beat me and
physically dragged me to the ground.' …According to MacNiallais, the two employees were laughing as they
assaulted him. One of them stomped on MacNiallais' head with his foot,
then picked up a chair and hit him, again on the head. Two of
MacNiallais' partner's brothers stood up and persuaded other customers
not to join in the assault."
The incident was partially recorded on a cell phone. Read more about the incident HERE.