Philanthropist Terrance Watanabe, a prominent donor to gay groups including GLAAD and the Gay Men's Health Crisis in New York City, which has a volunteer center in his name, has filed suit against Harrah's Inc. after a losing streak which the Wall Street Journal is calling one of the largest of all time: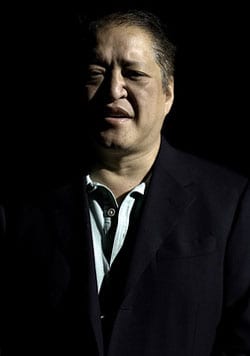 "During a year-long gambling binge at the Caesars Palace and Rio casinos in 2007, Terrance Watanabe managed to lose nearly $127 million.
The run is believed to be one of the biggest losing streaks by an individual in Las Vegas history. It devoured much of Mr. Watanabe's personal fortune, he says, which he built up over more than two decades running his family's party-favor import business in Omaha, Neb. It also benefitted the two casinos' parent company, Harrah's Entertainment Inc., which derived about 5.6% of its Las Vegas gambling revenue from Mr. Watanabe that year. Today, Mr. Watanabe and Harrah's are fighting over another issue: whether the casino company bears some of the responsibility for his losses.
In a civil suit filed in Clark County District Court last month, Mr. Watanabe, 52 years old, says casino staff routinely plied him with liquor and pain medication as part of a systematic plan to keep him gambling.
Nevada's Gaming Control Board has opened a separate investigation into whether Harrah's violated gambling regulations, based on allegations made by Mr. Watanabe."
The paper continues: "In April, the Clark County District Attorney's office charged Mr.
Watanabe with four felony counts in district court for intent to
defraud and steal from Harrah's, stemming from $14.7 million that the
casino says it extended to him as credit, and that he lost. Although
Mr. Watanabe has paid nearly $112 million to Harrah's, he has refused
to pay the rest. He denies the charges, alleging that the casino
reneged on promises to give him cash back on some losses, and
encouraged him to gamble while intoxicated. If convicted, Mr. Watanabe
faces up to 28 years in prison."
The WSJ adds: "In 1995, Mr. Watanabe bought an 18,000-square-foot mansion on four
acres for $1.8 million, according to RealQuest. A major Omaha
philanthropist, he gave millions to AIDS services, according to his
foundation's records. He also donated nearly $500,000 to political
causes, mostly to the Democratic National Party."
In 2002, GLAAD reported a donation from Watanabe as its largest by an individual donor in the organization's history. From its 2002 report:
"Nebraska-based philanthropist Terry K. Watanabe makes a $1 million
gift to GLAAD, the largest gift by an individual donor in the
organization's history. Watanabe's gift includes a $50,000 pledge
toward GLAAD's Digital Initiative to transform Internet activism."
(photo wsj)