Under pressure to denounce the Uganda "kill the gays" bill (which was recently reportedly revised to drop the death penalty and life imprisonment elements), Iowa Senator Chuck Grassley told the Iowa Independent that he's looking into it.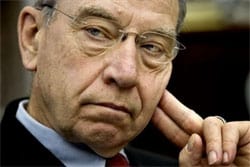 Said Grassley spokeswoman Beth Levine: "Subsequent to inquiries like yours this week, [Sen. Grassley's] office
contacted the U.S. State Department to get more information. The office was told that the administration
hasn't made an official statement, but an assistant secretary has
privately relayed concerns to the Ugandan president."
Grassley also denies any current ties to 'The Family': "Investigative journalist Jeff Sharlet, who has written a book about the group, said Grassley has been involved with the secret fellowship of Christian politicians since the 1980s and has been active in African affairs on the group's behalf.
Levin said Grassley has not been in contact with 'The Family' on this or any other issue and has never lived at or attended a prayer meeting at the group's townhouse on C Street near the U.S. Capitol. 'He worships at Prairie Lakes Church in Cedar Falls, and on the rare occasion he's in Washington on a weekend, he worships at Woodlawn Baptist Church in Alexandria, Virginia,' Levin said.
She said Grassley hasn't participated in a Sunday prayer breakfast often associated with 'The Family' in 'probably 10 years,' and when he did it was made up of senators of all faiths and denominations, 'including Protestant, Catholic, Mormon and Jewish.'"