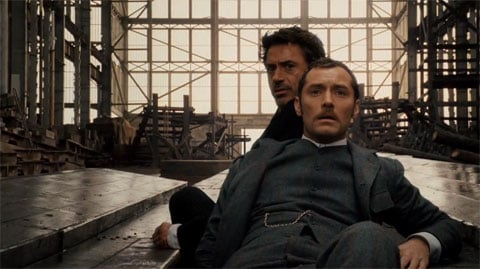 Studio execs are reported to be upset that Robert Downey Jr. won't shut up about what "homos" Sherlock Holmes and Watson are in the new Guy Ritchie flick.
Popeater reports: "Publicists for the upcoming 'Sherlock Holmes' movie are very concerned
that its star, Robert Downey Jr., can't stop hinting that the great
dapper detective's relationship with Dr. Watson may involve more than
just solving crime. 'When Robert joked with Letterman that they might
be homos, Warner Brother executives died,' laughed one industry insider
who believes Downey is messing with studio bigwigs. 'The studio wants to position this as an action-packed adventure, not 'Brokeback Mountain 2,'' my insider joked."
Downey Jr. recently appeared on Letterman and had a chat with Dave and Paul Schaffer about the fact that the detective duo could be perceived as "homos" or "screamers" by the audience.
More here…