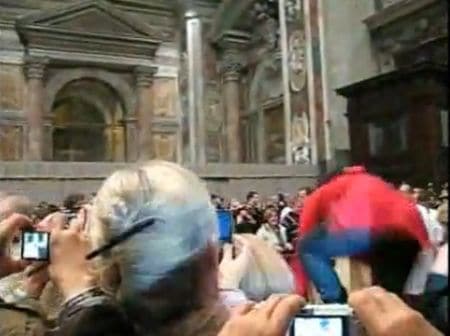 A woman in red leapt a barrier at Christmas Eve mass at St. Peter's Basilica today and took down Pope Benedict as he was in procession to the altar:
"The woman also knocked down Cardinal Roger Etchegaray, said the spokesman, the Rev. Federico Lombardi.The Vatican police took the woman in for questioning, and Cardinal Etchegaray was taken to an emergency room for a checkup, the news agency ANSA reported. The woman did not appear to have "malicious intentions," ANSA said.It was not immediately clear whether she was the same woman stopped by the police last year after trying to lunge at the pope as he left the Basilica."
The 82-year-old Pope was not seriously injured and went on to conduct Mass, advising those in attendance to be "truly vigilant."
Watch, AFTER THE JUMP…