X-Factor winner Joe McElderry says he's not gay: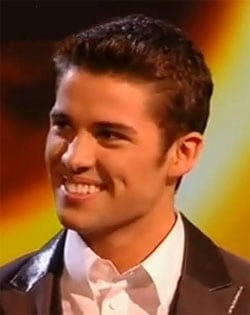 "I'm straight. I've had girlfriends, but I don't have one right now. I haven't slept with anyone, but I'm a young lad and I'm concentrating on my music.  I know I'll probably get offers but – for me – it's all about the singing for now.  Being recognised means you have to be really careful. I say 'Enjoy it, but don't go over the top'. At the minute, the last thing on my mind is a girlfriend.  I need to concentrate on things and maybe think about that when the album's out and I've got a bit of chill time."
But he was once bullied because people thought he was:
"Joe, 18, had a string of girlfriends, but that did not stop his tormentors.
Carly Dilbert, 19, who went out with Joe for two years, said: 'He hated it. It really upset him.  He was adamant he wasn't gay. But they kept on saying it. It was just kids being cruel, but it was hurtful to Joe.  He had tons of female friends. He wasn't into sport or anything like that – and he got bullied because of it. The boys would call him names like 'mummy's boy' or 'gay boy' – and laugh at him for hanging around with us girls. All the girls liked Joe more than other boys so maybe it was jealousy. It started when he was about 13 and carried on until he was 15 or 16. Eventually it died down and, by the end of school, everyone loved Joe. He won the bullies round with his sense of humour and his funny nature.'"