Say what?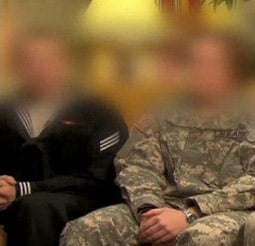 A new AP article on the 'Don't Ask, Don't Tell' repeal suggests it won't be complete until at least 2012:
"The Defense Department starts the clock next week on what is expected
to be a several-year process in lifting its ban on gays from serving
openly in the military.A special investigation into how the ban can be repealed without hurting
the morale or readiness of the troops was expected to be announced
Tuesday by Defense Secretary Robert
Gates and Adm.
Mike Mullen, chairman of the Joint Chiefs of Staff. While the review is likely to take the better part of this year to
complete, and even more time to implement, its initiation will advance
President Barack Obama's goal of repealing the ban and bring a
divisive issue for the military back to the fore."
And these are the topics that will be up for discussion over those two years:
"The review to be announced next week was expected to delve into
practical issues that surround changing the law: Can a soldier be forced
to room with someone who is openly gay if they are the same sex? Would
the military recognize civil unions and how much would it cost to extend
benefits to a service member's partner? Would quotas be imposed to
ensure openly gay service members aren't passed over for promotions?"
So more discussion of military showers and barracks, and segregation, and sexual predation, completely ignoring the fact that there are thousands of gay and lesbian military servicemembers already serving in the military, and multiple studies already completed on 'Don't Ask, Don't Tell'.
Obama is scheduled to speak with Gates and Mullen this week, according to the paper.
If the plan is truly to draw this out over a number of years, then Obama should sign (and we should demand he sign) an executive order immediately putting a moratorium on gay expulsions while this debate is undertaken.